Our summer season 2020 kicked off on Midsummer's Eve, the 19th of June! The summer season 2020 at the Levi Ski Resort will be full of fun outdoor activities and adventures while remembering and maintaining safe distances.
Welcome to Levi for a summer vacation above the ordinary!
Levi Ski Resort's services open in stages as follows.
Services open from 19th of June:
Zero Point bike rental

Brand Store

Café Zero

Miniature golf

Disc golf

North trampoline park

Skate park and pump track

Children's traffic park and playground

Activity Park's ice-cream stand where you can rent the equipment for disc and miniature gold as well as tennis.

The Levi Tourist Information will be serving customers from 10 am to 6 pm every day of the week at the Zero Point building.
All other services open on 3rd of July 2020, including:
The Levi Adventure Park

The summer sled track

The Levi Bike Park

Scenic lifts
Read more about the summer activities at Levi ski resort here!


LEVI SUMMER CARD: 3 FOR 2 ON ADVENTURES!
The popular Levi Summer Adventure Card is here again! The adventure card is sure to make your holiday at Levi even more fun: When you buy two different activities or adventures, you get the third one for free!
You can, for example, admire the breath-taking scenery on our cabin lift going up the mountain and then cruise down on a sled, after which you could either rent a mountain bike or a fat bike for free to explore the trails, or spend the day on theAdventure Course, one of the most diverse courses in all of Europe. Levi Summer Adventure Card offers activities and adventures for every day of your holiday!
Book your summer adventure card from our webstore now to ensure your summer includes more fun activities! Summer activity cards are personal and valid until 27.9.2020. Book your card here.

SPECIAL OFFER ON BIKE PARK SEASON PASS FOR THE SUMMER 2020
Levi Bike Park is diverse and extensive, offering top settings on an international scale for friends of downhill and enduro cycling. We have an extensive selection of routes for different skill levels, from easy beginner trails to more demanding downhill trails.
This summer we're opening a new Village Trail, which aims to be the longest bike route in Finland starting with a ski lift. The trail leads from the top station of the Gondoli2000 all the way down the Front Slopes. It is our easiest ride and thus offers a great entry point to anyone learning or new to bike park riding.
The Summer season passes are available on special offer! For 11-years-old and over the Summer Season Pass is reduced to 149 € (from 225,00 €) and for 6-11-years-olds to 99 € (from 150,00 €). Summer Season Pass gives access to Levi Bike Park and the Express & Gondola2000 cabin lifts during the summer 2020. Book your Season Pass!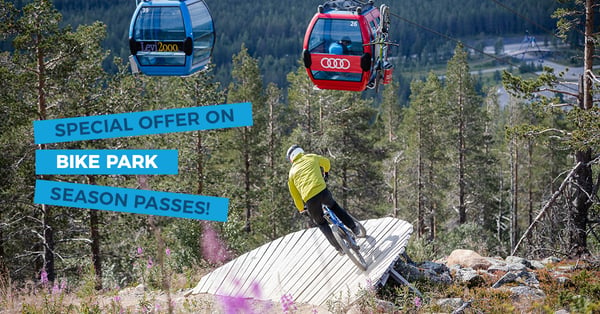 LET'S CARE FOR ONE ANOTHER
We are executing precautionary measures in all our activities and services to curb the spread of the coronavirus. We actively monitor the situation and act according to the instructions and regulations given by the authorities.
Let's maintain good hand hygiene, ensure that we give enough space to each other and if there is a need to cough, let's make sure that we cough in a manner that does not risk the wellbeing of others.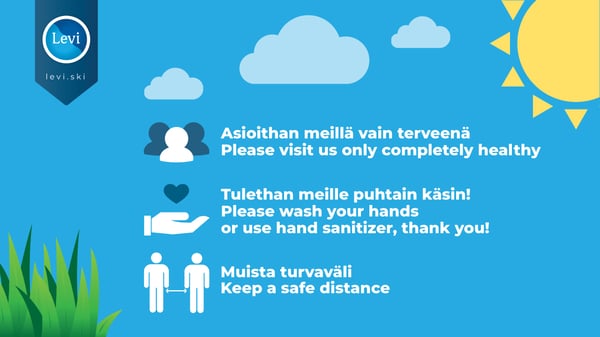 Following the guidelines from the Finnish Institute for Health and Welfare are equally important now that most restrictions have been called off:
Wash your hands
The best way to protect yourself against coronavirus and other infections is by maintaining good hand hygiene. Do not touch your eyes, nose or mouth unless you have just washed your hands.
Cough correctly – do not infect others
If you have the flu or its symptoms, staying home is the best way to prevent it from spreading. Cover your mouth and nose with a disposable tissue when coughing or sneezing. Immediately put the used handkerchief in the rubbish bin. If you don't have a handkerchief, cough or sneeze onto the upper part of the arm of your sweater, not into your hands.
Use an alcohol-based handwash
If hand washing is not possible, use an alcohol-based handwash.
More information about coronavirus can be found on the THL website: https://thl.fi/en/web/infectious-diseases/what-s-new/coronavirus-covid-19-latest-updates
The Finnish Ski Area Association (FSAA) Guidelines for Resorts in the Summer of 2020
After the Government lifted the state of emergency related to the coronavirus, the Finnish Ski Area Association (SHKY) updated their COVID-19 recommendations for bike parks and their customers on 16 June 2020.
The Finnish Ski Area Association's recommendations for the use of ski lifts in the summer and for ski resort customers:
Visit the resort only in good health. Stay at home if you are unwell.

Quarantined persons should not visit the resort.

In lift lines, and elsewhere in the resort, safety distances recommended by the authorities should be taken into account.

Anchor lifts are to be used by one passenger at a time.

Only one person at a time is allowed to travel in the T-bar lifts.

In covered chairlifts and the gondola lift, travel is only allowed with family or members from the same party.

Bike Park rental bikes, guards and helmets are treated with disinfectant after each use.

The brake levers on sleds are treated with disinfectant after each use.

The steering wheels of slope cars are treated with disinfectant after each use.

Levi Ski Resort follows official health guidelines and precautions.

Hand disinfectant is available in as many places as possible.

SHKY recommends the guidelines for cleaning given by the Finnish Institute of Occupational Health to prevent COVID-19 infections.

Staff are instructed on hygiene. Computer keyboards and other equipment are cleaned regularly.

It is recommended that customers obtain lift tickets in advance from the online store to avoid unnecessary contact.

Levi Ski Resort and the Finnish Ski Area Association actively monitor the situation and act in accordance with the instructions of the authorities.
The health, safety and well-being of customers and employees is a key concern for all the resorts that are members of the Finnish Ski Area Association. The Finnish Ski Resort Association and Levi Ski Resort are actively monitoring the coronavirus situation and cooperating with the authorities.