Levi Bike Park turns 15 years old in the upcoming summer. The idea of building a Bike Park to Levi was born on a study trip to Canada, in Whistler Blackcomb Ski Resort in summer 2005. Next summer, Northern Finland's first Bike Park was built to Levi. Now, Levi Bike Park is one of the most popular biking centers in Finland.
At the beginning of the 21st century, downhill and enduro biking were the number one sport, for a small and enthusiastic amateur group. Nowadays, biking in all forms has risen to great popularity among all people.
Levi Bike Park offers 25 kilometers of different routes, aimed at both beginners and true biking enthusiasts. Last summer proved the great popularity of biking as a sport, when the bikes were taken out of hands at the Levi Bike Park rental shop and routes had more riders than ever before. Of course, the issue may have also influenced by the travel recommendations regarding foreign countries due to COVID-19, however, the attraction of Lapland's phenomenal summer had its part to play too. Visitor numbers also indicated the popularity of the sport.

The first years of Levi Bike Park were quiet
- We were the trailblazers with the Levi Bike Park, so the first years were pretty quiet. However, after other ski resorts opened Bike Parks in Central Finland and at Sappee, the sport took off and the increased popularity also here in the North. After this, Ylläs opened a Bike Park alongside its other business and last summer became a breakthrough both in biking and Levi Bike Park, says Jouni Palosaari, CEO of Levi Ski Resort.

The idea of a Bike Park was born in 2005, when the people of Visit Levi and Levi Ski Resort went on a study trip to Whistler Blackcomb, the most prestigious ski resort in the world, to see how summertime is more popular there than the winter.

- We were amazed because biking had such huge importance to them. From there we also got the idea for Activity Park and village bikes. After returning back home from Canada, we decided to start building our own park and hired the person from Whistler to come and design the park for us, tells Palosaari.

The relevance of biking is increasing
Over the years Levi Bike Park has developed to serve a growing number of bikers from various levels. The Village Trail route, which was opened at Levi last summer, will be the longest downhill biking route in Finland when its last kilometer is completed this summer. The length of the route will be a total of 4–5 km and the magnificent scenic route is aimed at beginners and can be ridden on almost any bicycle.
- At the moment we have 13 different routes in the fell. Our route plan is drawn up for the next four years, which means that we have plans to make one new route every summer during that time period, says Tuomas Uusi-Illikainen, the Bike Park Manager of Levi Ski Resort.
Levi Bike Park's summer opening goal is at Midsummer, when the first routes will be opened. Most of the park's routes are open from mid-July onwards. Of course, the weather affects the opening schedules, depending on when the snow melts and how quickly spring arrives to the fell, as all routes must be rehabilitated and serviced before commissioning. In honor of the Levi Bike Park anniversary, the summer season pass is also available at an early bird price.
- Levi's summer is the sum of many things. Previously people came here just to enjoy nature, however, modern people demand also activities. Levi Ski Resort is like a large amusement park, which on top of many things, offers different levels of bike trails in the arctic nature scenery. Levi Bike Park has become an important business, that enables a wider customer base. What's even better, we have unlimited opportunities to develop the park, says Palosaari.
INTERVIEWS AND CONTACTS:
Jouni Palosaari, CEO, Oy Levi Ski Resort Ltd, email jouni.palosaari@levi.fi
Marko Mustonen, Commercial Director, Oy Levi Ski Resort Ltd, email marko.mustonen@levi.fi
Levi Ski Resort Ltd is one of the Nordics' most popular ski resorts and Finland's leading year-round activity resort. Levi Ski Resort's success is built on the resort's professional staff, advanced technological capabilities and the annual Alpine World Cup races.
Levi Ski Resort's business operations focus on the sales of ski lift passes, ski school courses, equipment rentals and the sales of quality outdoor clothing via the resort's own stores. In addition, the affiliated company Levi Restaurants Ltd offers on-piste restaurant services. Levi Restaurants Ltd is part of the Levi Ski Resort Group. Levi Ski Resort has committed to the ISO 14001 environmental system as the first ski resort in the Nordic countries. Respect and care for the arctic environment form the core of the company's values. www.levi.ski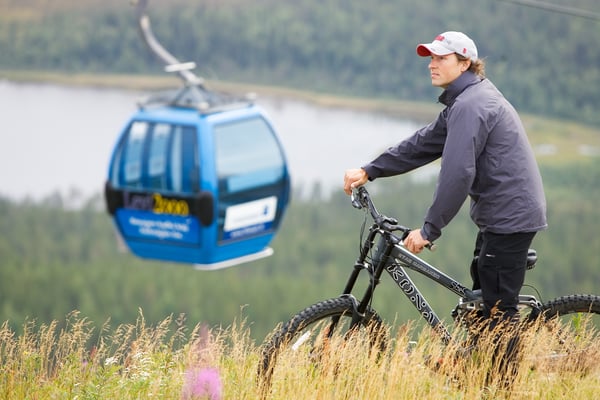 Levi Bike Park 2006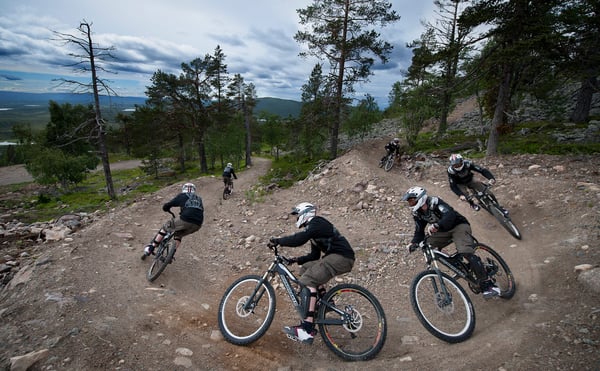 Levi Bike Park 2012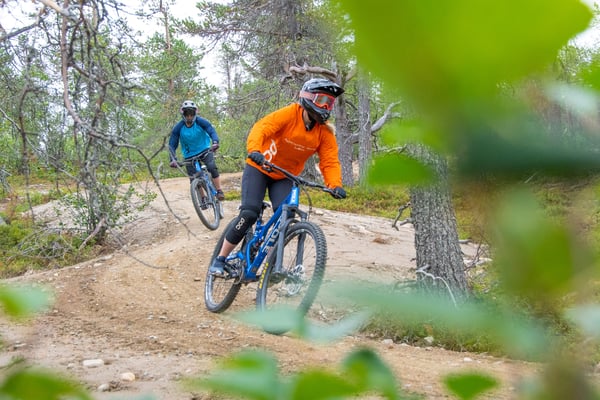 Levi Bike Park 2020